FDA-Approved
From Azurity Pharmaceuticals, developing high-quality medications specifically for pediatric patients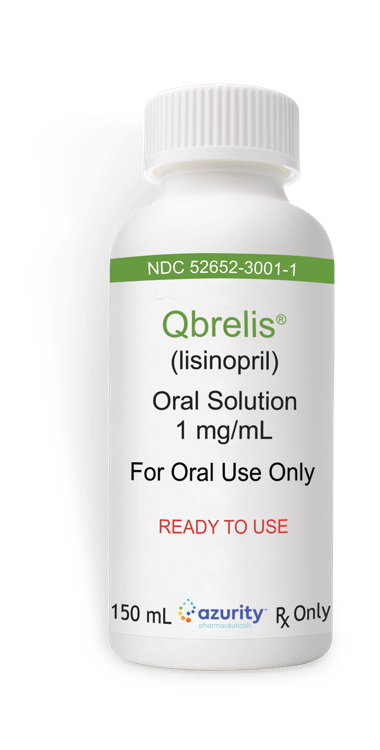 The First and Only FDA-Approved Lisinopril Oral Solution for Pediatric Patients Age 6 Years and Older
QBRELIS (lisinopril) is a prescription medicine for the:
treatment of high blood pressure in pediatric patients age 6 years and older, as well as adults.
treatment of heart failure.
treatment of acute myocardial infarction (heart attack); usually taken with other standard treatments, such as thrombolytics, aspirin, and beta blockers.
It's the first and only FDA-approved oral liquid form of a medicine called lisinopril. Because it's FDA-approved, you can be sure it's a high-quality product.
Qbrelis Dosing Information
Your doctor will tell you how much Qbrelis that you or the patient should take. Do not change the dose of Qbrelis unless your doctor tells you to do so.
Qbrelis should be taken at the same time every day.
Always carefully measure the prescribed dose of Qbrelis before you or the patient takes it.
Make sure that you or the patient swallows the entire dose of Qbrelis.
If you have questions about Qbrelis, ask your doctor or your pharmacist.
Consult your doctor before making any changes to the medication.
Missed a dose of Qbrelis?
If you or the patient misses a dose of Qbrelis, the next dose should be taken at the regular time. Use the normal amount. Do not use more medicine than your doctor has prescribed.
Qbrelis may cause side effects. See additional Important Safety Information below.

Patients May Pay No More Than $30 For Qbrelis*
If you have commercial insurance, you may pay no more than $30 for your prescription with the Qbrelis co-pay programs. The automatic savings is instantly applied to your co-pay at the pharmacy. It's completely paperless, so there are no cards, coupons, or forms.
For eVoucherRx™ questions, please call: 800‐388‐2316 Relay Pharmacy Help Desk/Customer Support.* Or to see a list of participating pharmacies for eVoucherRx, visit https://evoucherrx.relayhealth.com/storelookup.
For Voucher On Demand™ questions, please call: 866-379-6389 eRx Network, LLC. Help Desk/Customer Support.*
See Qbrelis co-pay programs eligibility restrictions, terms, and conditions.
How do I use the Qbrelis co-pay programs?
It's easy. You don't need any cards or coupons. Take your Qbrelis prescription to one of many participating pharmacies nationwide. When you pick up your prescription, you'll get an automatic co-pay reduction that ensures you'll pay no more than $30 for Qbrelis if your co-pay is $230 or less.
How much money will I save?
Qualifying patients will pay no more than $30 for a Qbrelis prescription. Your savings depends on the amount of your co‐pay above $30.*
*Eligibility Restrictions, Terms, and Conditions
By participating in this savings program, participants understand and agree that the information provided, as well as non-personally identifiable information obtained from the pharmacy, will be shared with the manufacturer and with any companies working with the manufacturer. Participants also affirm that they will not submit, and have not had submitted on their behalf, a claim for reimbursement or coverage for items purchased with this card under Medicaid, Medicare, TRICARE, or any other federal or state government healthcare program, or where prohibited by state law.
Offer applies to out‐of‐pocket expenses (co‐pay) greater than $30. Out‐of‐pocket expenses greater than $30 will be covered up to $230 per prescription. If your total out‐of‐pocket cost exceeds $230, you will be responsible for a $30 co‐pay plus any additional amount over $230. If your co‐pay is already $30 or less, this offer does not apply.

Offer applies only to Qbrelis patients and associated refills.

This offer is not valid for prescriptions paid in part or in full by any federally or state‐funded program, including but not limited to Medicaid, Medicare, Department of Veterans Affairs, Department of Defense, or TRICARE, and where prohibited by law.

For questions about eVoucherRx™, please call: 800‐388‐2316 Relay Pharmacy Help Desk/Customer Support.

For questions about Voucher On Demand™, please call: 866‐379‐6389 eRxNetwork, LLC Help Desk/Customer Support.

This savings program cannot be combined with any other coupon, certificate, voucher, or similar offer.

Offer good only in the USA at participating retail pharmacies and cannot be redeemed at government‐subsidized clinics. Void where taxed, restricted, or prohibited by law.

Offer not extended to clubs, groups, or organizations.

Participation in this program must comply with all applicable laws and contractual or other obligations as a pharmacy provider.

This is not an insurance program.

Participating patients and pharmacists understand and agree to comply with the Terms and Conditions of this offer as set forth herein.

Any step‐edits or prior authorizations required by the insurance plan still apply.

Azurity Pharmaceuticals, Inc. reserves the right to modify or cancel this program at any time.

eVoucherRx™ and Voucher On Demand™ are not extended on prescriptions for patients:

who are cash‐paying customers.

using institution-based pharmacies to fill their prescriptions, or who are recipients of federal or state government health care.

who are filling their prescriptions at nonparticipating pharmacies.
eVoucherRx™ is a trademark of RelayHealth.
Voucher On Demand™ is a trademark of eRxNetwork, LLC.
Important Safety Information
WARNING: FETAL TOXICITY
See Full Prescribing Information for complete boxed warning.
When pregnancy is detected, discontinue QBRELIS as soon as possible.
Drugs that act directly on the renin-angiotensin system can cause injury and death to the developing fetus.
INDICATIONS
QBRELIS is an angiotensin-converting enzyme (ACE) inhibitor indicated for:
treatment of hypertension in adult patients and pediatric patients 6 years of age and older to lower blood pressure (BP). Lowering BP decreases the risk of fatal and nonfatal cardiovascular events, primarily strokes and myocardial infarctions (MI).
reduction of signs and symptoms of systolic heart failure.
reduction of mortality in treatment of hemodynamically stable patients within 24 hours of acute MI. Patients should receive, as appropriate, the standard recommended treatments such as thrombolytics, aspirin, and beta-blockers.
ADDITIONAL IMPORTANT SAFETY INFORMATION
Qbrelis (lisinopril) Oral Solution should not be used during pregnancy or if breastfeeding. Taking Qbrelis during pregnancy can harm the unborn child. Stop taking Qbrelis as soon as possible if pregnancy is detected.
Before you or your patient takes Qbrelis, tell the doctor if you or your patient has kidney, liver or heart disease, diabetes, or is on dialysis.
If you or your patient has diabetes or kidney disease, Qbrelis should not be taken with aliskiren (Amturnide®, Tekamlo®, Tekturna®, Valturna®).
Do not use this medication if allergic to lisinopril (Zestril®, Prinivil®) or similar medicines such as: benazepril (Lotensin®), captopril (Capoten®, Capozide®), fosinoprll (Monopril®), enalapril (Epaned®, Vasotec®, Vaseretic®), moexipril (Univasc®, Uniretic®), perindopril (Aceon®), quinapril (Accupril®), ramipril (Altace®), trandolapril (Mavik®, Tarka®), and others, or if allergic to any ingredients in Qbrelis.
Do not take or give your patient Qbrelis if there is a history of swelling of the face, extremities, lips, tongue, throat, glottis, and/or larynx (angioedema). Angioedema may occur at any time during treatment with angiotensin-converting enzyme inhibitors, including Qbrelis. If this occurs, discontinue Qbrelis and call the doctor or get emergency medical help right away.
Call the doctor right away if you or your patient has any of the following serious side effects at any time during treatment:
swelling of face, extremities, lips, tongue, throat, glottis, and/or larynx;
difficulty swallowing or breathing; or
yellowing of the skin or eyes.
Qbrelis may cause other side effects. The most common side effects are headache, dizziness, cough, and low blood pressure.
Call your doctor if you or your patient shows any of these symptoms: headache, dizziness, cough, low blood pressure, chest pain, or kidney dysfunction.
If you or your patient faints or feels lightheaded, especially during the first few days of treatment, discontinue Qbrelis until you have talked with the doctor. Qbrelis can cause symptomatic low blood pressure (hypotension). Conditions that may cause very low blood pressure include: vomiting, diarrhea, heavy sweating, heart disease, dialysis, a low-salt diet, or taking diuretics (water pills). If you or your patient has a prolonged illness that causes diarrhea or vomiting, tell the doctor.
If you or your patient needs surgery, tell the surgeon ahead of time that you or your patient is taking Qbrelis. The surgeon may recommend that Qbrelis be discontinued for a short time.
Tell the doctor about all other medicines you or your patient uses, including potassium supplements and/or potassium-containing salt substitutes, all prescription drugs, over-the-counter medicines, vitamins, and supplements. See full Prescribing Information (Section 7) for drug interactions.
If you or your patient is currently taking a non-steroidal anti-inflammatory drug (NSAID), such as aspirin, ibuprofen (Advil®, Motrin®), or naproxen (Aleve®), talk to the doctor before taking or giving Qbrelis.
Changes in kidney (renal) function, including acute renal failure, can be caused by Qbrelis. Your kidney function or your patient's kidney function should be monitored by the doctor.
Qbrelis is not recommended for use with pediatric patients under 6 years of age. Qbrelis should not be used in children with kidney problems (i.e., a glomerular filtration rate < 30 mL/min/1.73m2).
These are not all the possible side effects of Qbrelis. Your doctor or your patient's doctor is the best source of advice about side effects. Call the doctor immediately if you or your patient has any side effects that concern you or do not go away.
Your blood pressure or your patient's blood pressure will need to be checked often. In addition, serum potassium levels and renal function will need to be monitored.
Make sure you or your patient visits the doctor regularly.
See full Prescribing Information for further information, including other Adverse Reactions.
To report SUSPECTED ADVERSE REACTIONS, contact Azurity Pharmaceuticals at 1-855-379-0383, or FDA at 1-800-FDA-1088 or www.fda.gov/MedWatch.